Welcome to Makers & Lovers, a destination for celebrating both our talented makers and craftspeople and those who love their craft. For this instalment, we spend an afternoon with East London-based baker and wedding cake maker Isobel Macmillan-Scott. Known for her creative flavour combinations and colourful designs, Isobel launched her namesake bespoke cake business Isobel Bakes five years ago. She has created wedding cakes for the likes of fashion influencer Zeena Shah and other high profile (and top secret) celebrities. Here she talks the mum-work juggle, creative inspiration and her tips for a soft and pillowy sponge every time.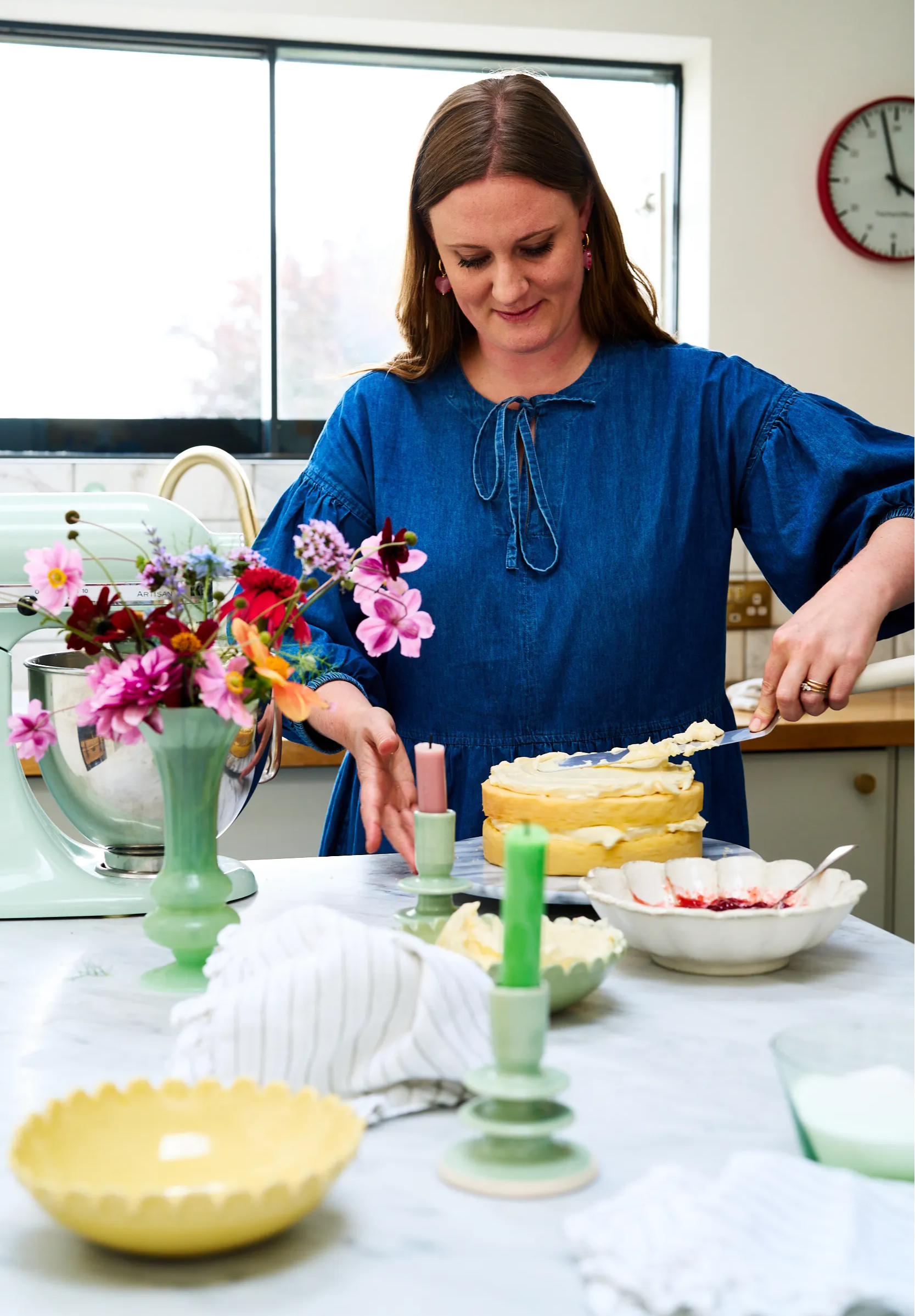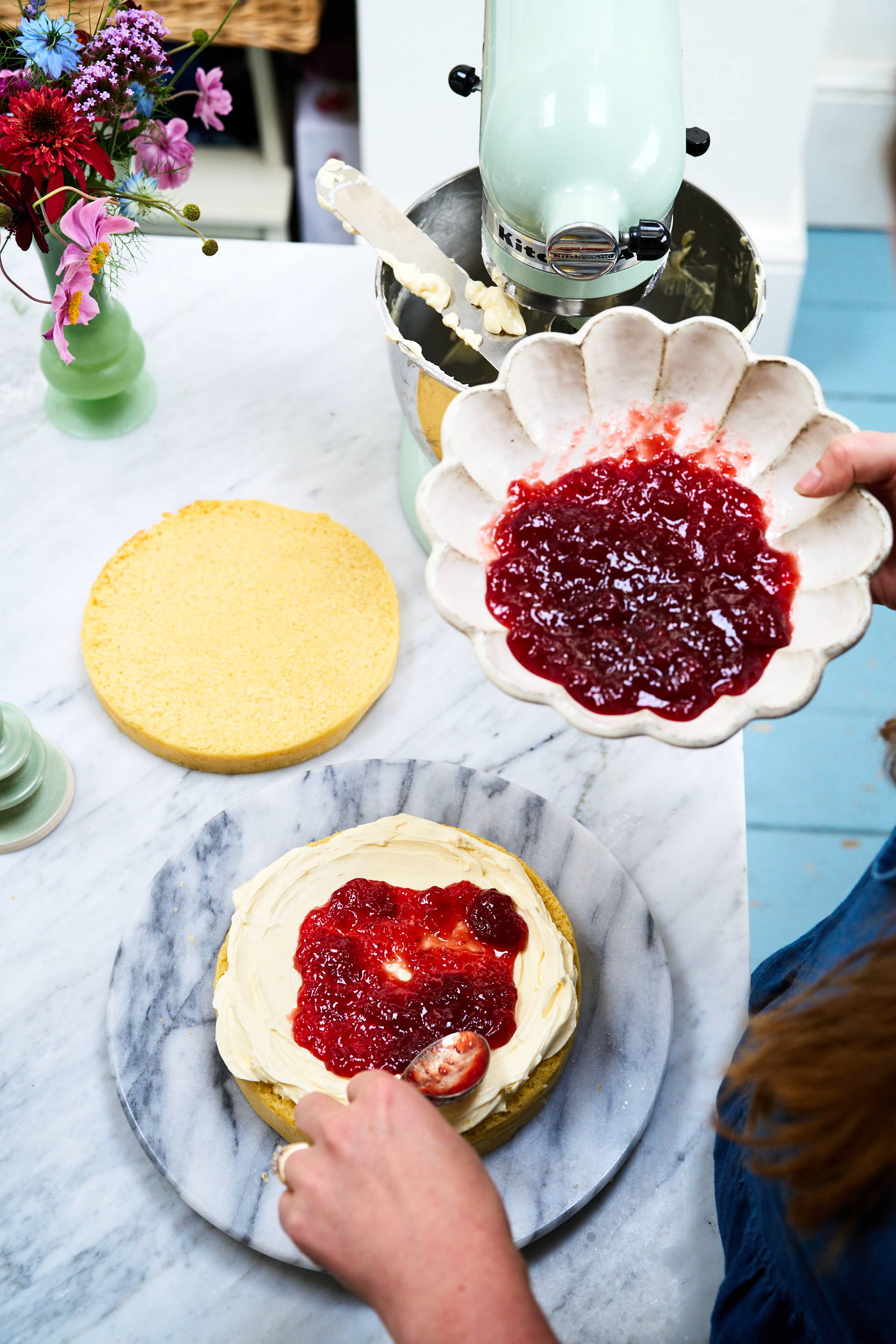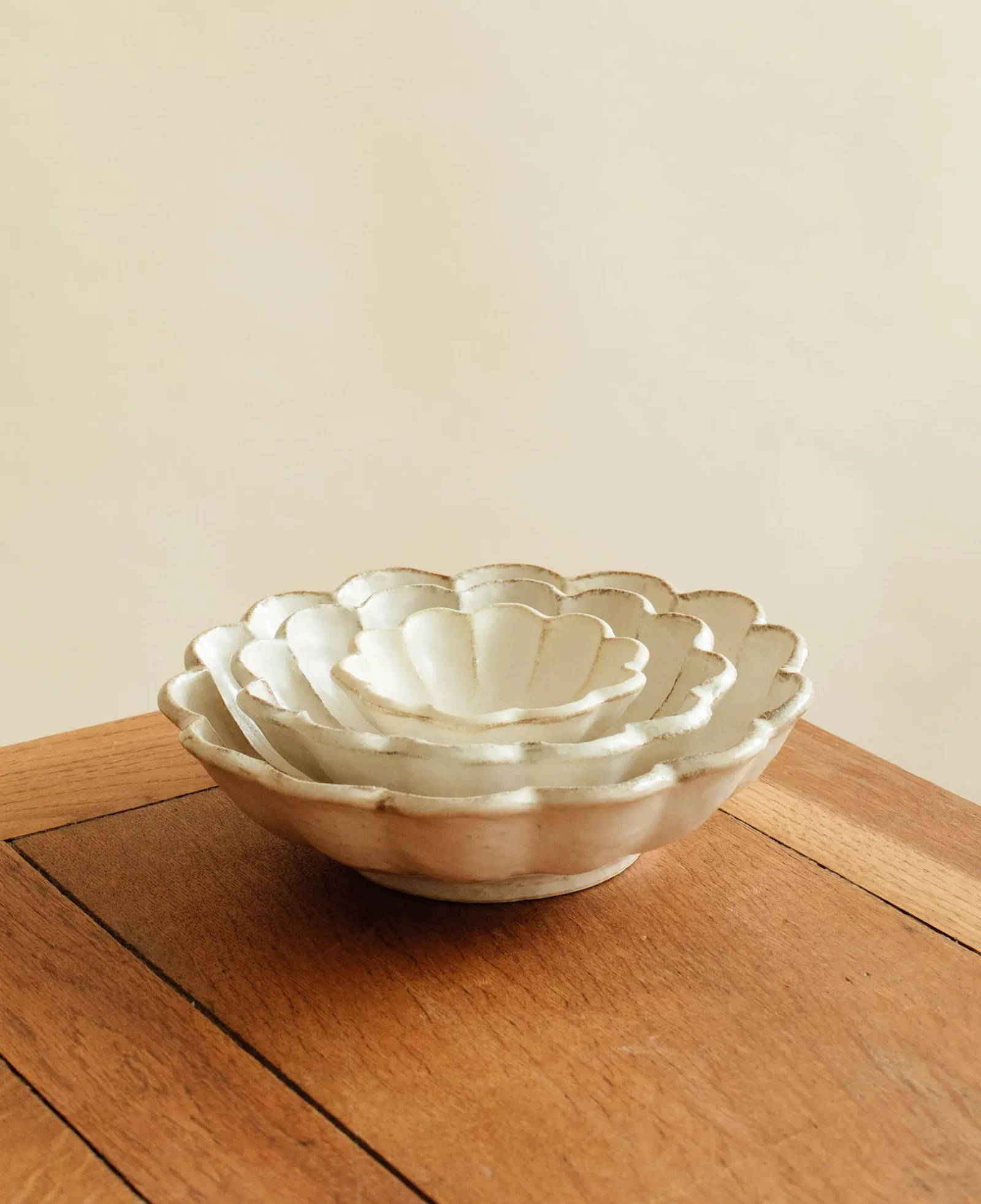 Isobel, what drew you to cake making and how did you start out?
I worked in Tom's Deli in Notting Hill during my early twenties. I knew I wanted to work in food, but didn't know which direction to take. I entered a baking competition in a national newspaper around the time of the first Royal Wedding and was amazed to come second. I had so much fun coming up with the concept and design that I thought it might be something I could get into. Shortly afterwards, just by chance, a friend of mine asked if I would make her wedding cake. The rest is history.
"Art and design were my first loves, and still play a big part in my life – from the interiors in my home to my travels and, of course, my food styling and wedding cakes."
What does a typical day in the life of Isobel look like?
I always start the day with a coffee in bed with my husband Chris and son Rudy. It's our morning ritual. No phones, just us and a chance to collect my thoughts before the day takes over.
I switch the oven on to preheat for my bake and check my emails. Then I prepare the baking tins and measure out my ingredients. I listen to Andrew Bird as I bake, as it makes me feel calm. Once the baking is done, I head out to get some food for dinner. I love to cook, so wondering around the grocers and picking up fresh ingredients makes me happy, I usually grab a coffee while I'm wandering and walk through the park.
In the evening, I get myself organised for the next day of work —take the butter out of the fridge and get my tools ready. Then spend some quality time with Rudy after nursery followed by dinner with my husband.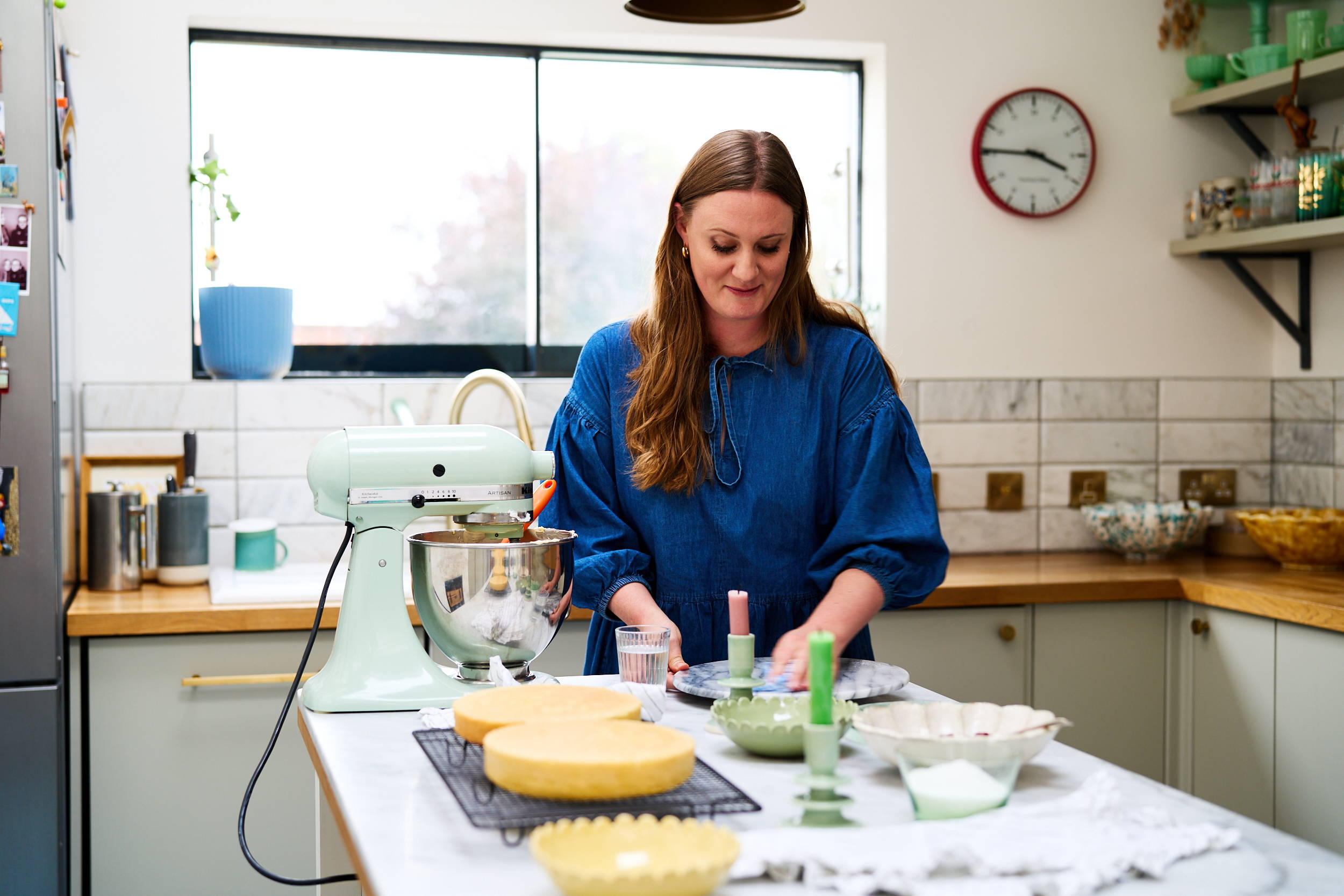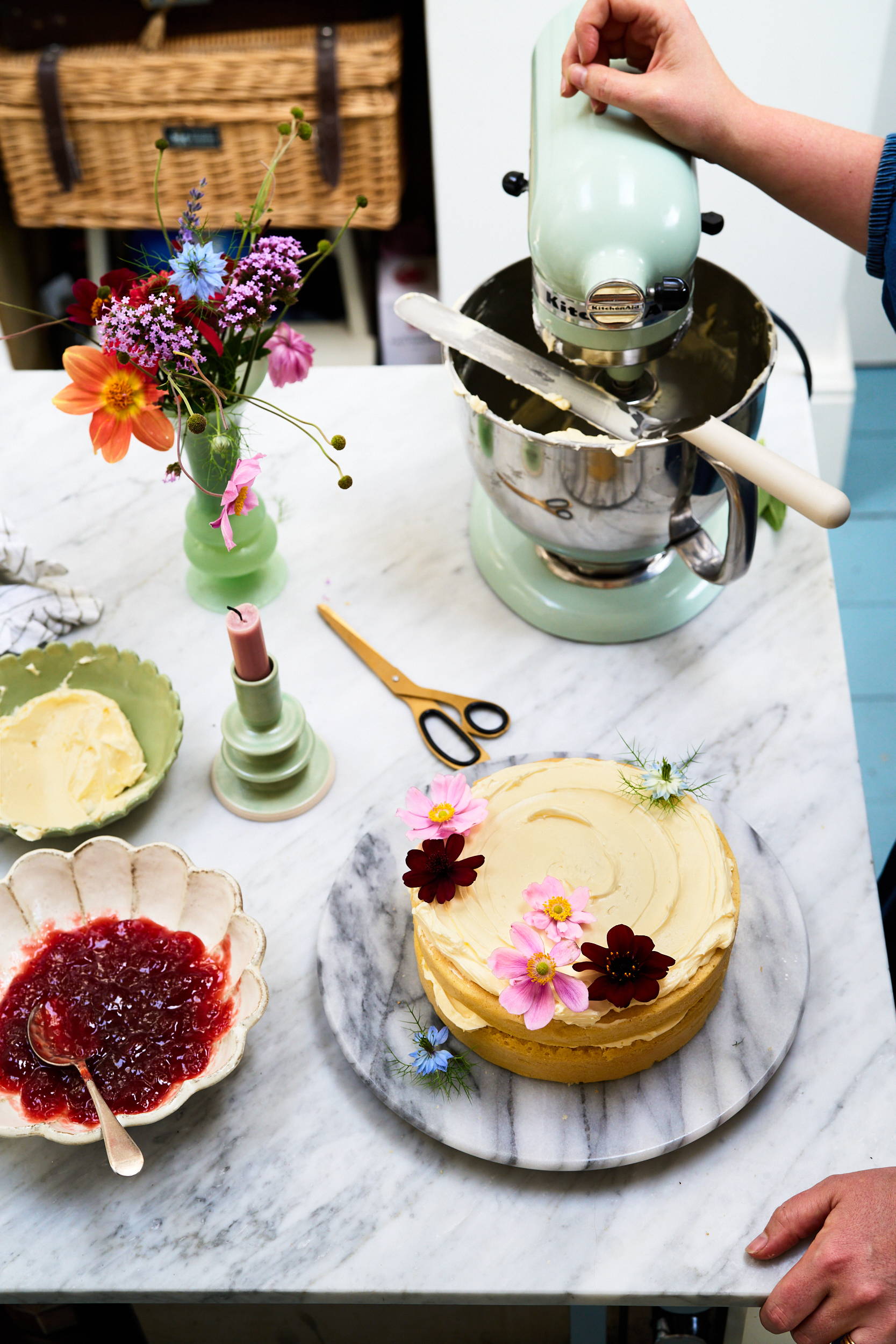 Can you talk us through the creative process of making a wedding cake.
Art and design were my first loves and still play a big part in my life — from the interiors in my home to my travels and, of course, my food styling and wedding cakes. I find inspiration everywhere, from the Bloomsbury Group and Marimekko to retro baking books; I love the play of colour and texture (as anyone who has seen my Instagram will know!). In terms of flavours, I draw from my experiences. My pistachio, raspberry and lemon cake with pistachio cream is inspired by trips to southern Italy.
I encourage couples to tell me what they really want. Wedding cakes are so much more bold, creative and fun these days, so I like to get an idea of their style and go from there. Each cake is completely bespoke and personal to the couple. I love being part of the creative process and giving them the excitement of seeing the cake on the day and most importantly eating it!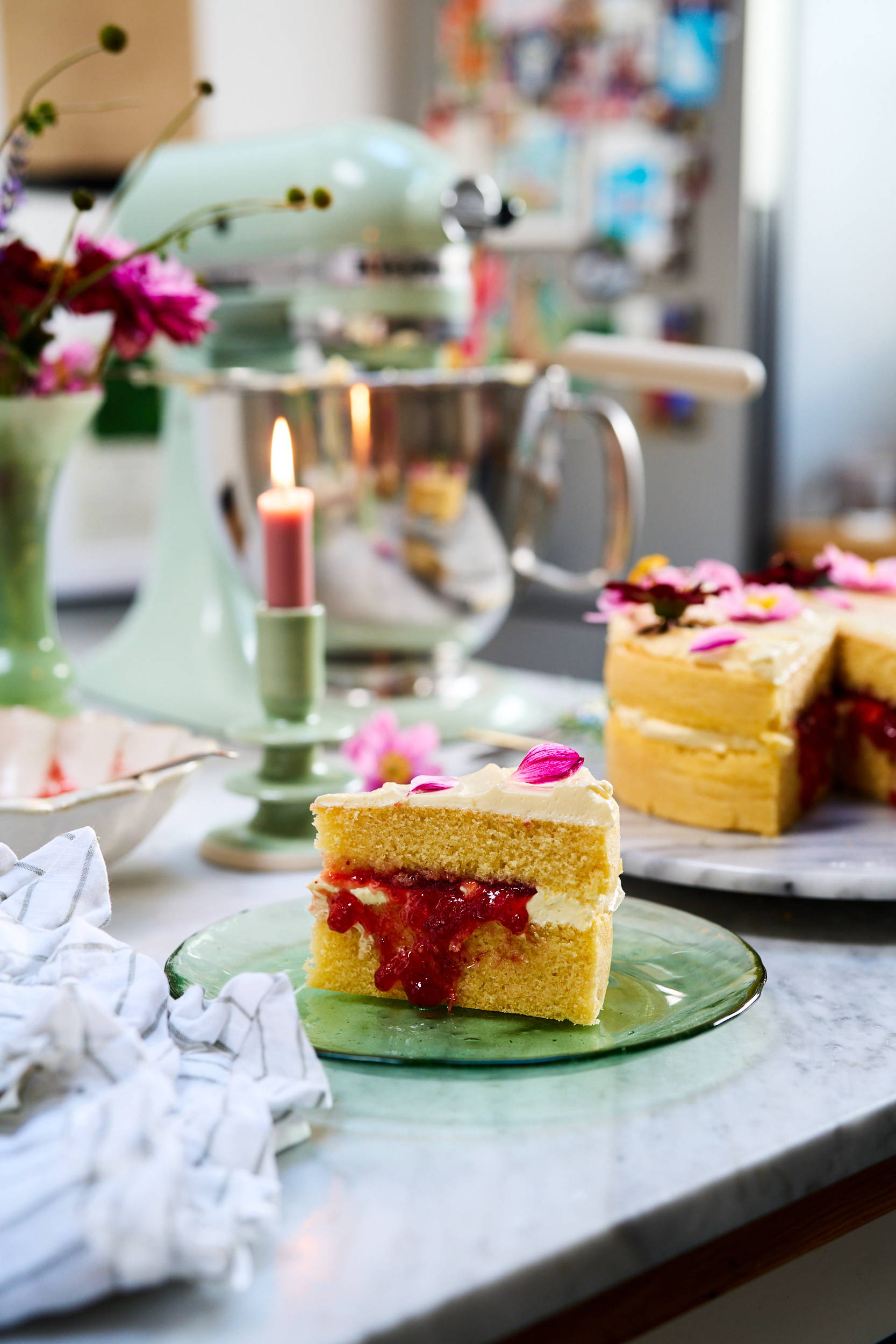 What has been the highlight of your career so far?
I've been very lucky to work with some amazing clients, some frustratingly I'm not allowed to talk about, but being recognised in the industry is huge for me as I suffered from imposter syndrome when I started out.
I made a cake for a Guardian Weekend cover featuring Ottolenghi to promote his baking book. I met him on the day, and as someone I look up to in the industry, it was a real pinch me moment. To be trusted to create one of his cakes for the cover was a real honour.
Every cake I make is a highlight, I get such joy out of making people happy with the work I create.
Do you have a piece of advice for those at the beginning of their creative careers?
You have to believe in yourself and your work. Don't get distracted by what other people are doing. Social media is terrible for influencing your designs and not trusting your own creative instincts. Be true to yourself and what inspires you. And have fun. This part is so important. Enjoy what you do and you will get better and better.
Also don't give up. It's hard starting out in a creative industry, but if you keep plugging and keep sharing your work with the world, you will get the recognition you deserve.
What are your tips for a calm and organised kitchen?
I'm not the most organised person, I have a million things going on at the same time, especially since I became a mother. But with work, I have to be organised. I always make sure the kitchen is ready to go the night before when I have a wedding cake to bake.
I make sure I've eaten before I start, usually toast and jam with a cup of coffee. Never bake on an empty stomach as there is a danger you will eat all the offcuts … Music or a podcast while I work helps to keep me calm and relaxed and focused on what I'm doing.

"Social media is terrible for influencing your designs and not trusting your own creative instincts. Be true to yourself and what inspires you. And have fun. This part is so important. Enjoy what you do and you will get better and better."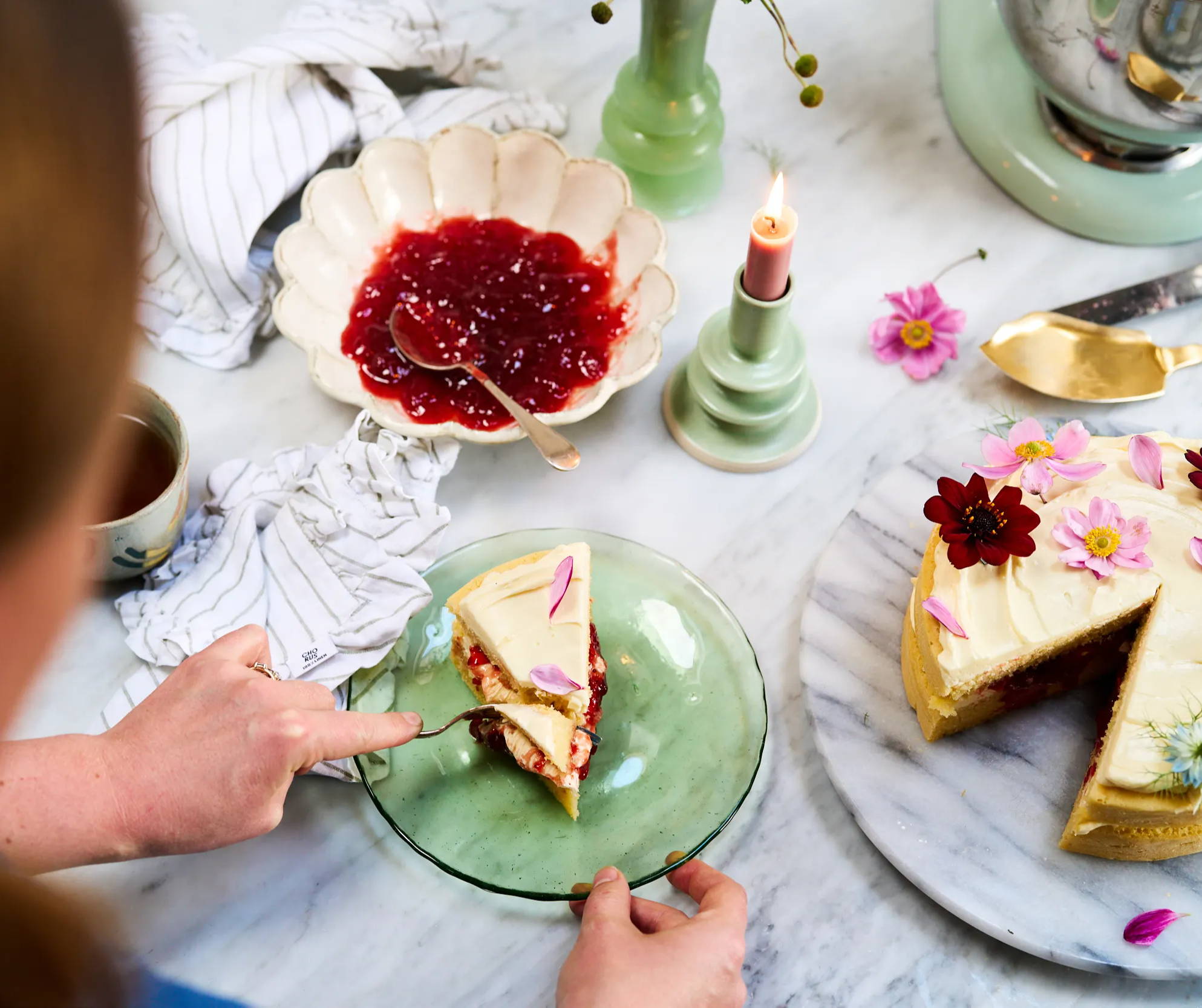 Is there a secret to creating the perfect sponge every time? What are your tips for total novice bakers?
Read the recipe thoroughly. Different sponges require different techniques, so make sure you know what you're doing in advance. Read it a couple of times and don't rush, take your time and enjoy the process! Make sure your oven is on the right temperature and practic patience — never open the oven door before the time is up.
A sugar syrup through your baked sponges is the key to keeping your sponges soft and pillowy.
You're something of a collector and interiors enthusiast yourself. What are your favourite pieces in your home?
It's hard to choose, I have a huge collection of Italian shizzato ceramics and splatterware. They are lined along my kitchen shelves and every time I look at them I think of holidays and good food and just happiness. I'm addicted to buying them.
I have brass scallop shell wall sconces in my living room that I found in America, and in the evening with the candles lit, the glow they give off is magical and so warming. Small pieces like that bring me so much joy.
Fabrics and cushions are something that I want to collect more of in my home. I have a Duncan Bell 'Clouds' fabric cushion inspired by Charleston House and the dancing shapes and colours make me smile.

What is your daily ritual for relaxing and unwinding?
If I have a spare moment, I treat myself to a cookery documentary like Chef's Table. They're a complete distraction from the world and inspire me to cook and travel.
A walk is medicine! Being freelance, it's easy to spend the whole day and evening at home and not get out, so a walk and some fresh air is so important to break up the day and unwind. My husband, son and I walk to the local ponds in the morning — it's a lovely way to start the day, surrounded by trees and water and my boys.
A bath at the end of the day. After a long day of baking my back and arms and legs ache, so a bath with candles and Epsom salts is the best way to unwind before bed. Heaven.
What are you loving at Quinn Says?
I absolutely adore Fiona May's Menorca ceramics. I can see them sitting happily alongside my other ceramics on my kitchen shelves. They are beautiful.
I also love Stoff Studio's fabrics and cushions. They bring real joy. I've loved her work for a while.
Do you have any exciting projects coming up?
As well as booking up for next year, I've also been experimenting with ways to share my bakes with a wider audience.
I have recently launched a Babka by post service via my website, which anyone can order as a treat for themselves or as a gift. Dark chocolate and toasted hazelnut babka, wrapped in beautiful paper and ribbon with a note if you wish. It can be eaten as it is, or warmed up with ice cream, I even eat it with cold salted butter, which is delicious!
For more, visit isobelbakes.co.uk and @isobelbakes on Instagram.