Welcome to Makers & Lovers, a destination for celebrating our talented makers and those who appreciate their craft. For this instalment, we spend five minutes with Bristol-based textile designer Jessie De Salis. After discovering screen printing during lockdown, Jessie fell in love with the process and launched her brand of joyful textiles and made-to-order homeware. A true proponent of interiors that "spark joy", her collection of linen lampshades is bright and bold, inspired by the changing moods of the natural world. Here, we talk to the artist about playing with colour and building her business.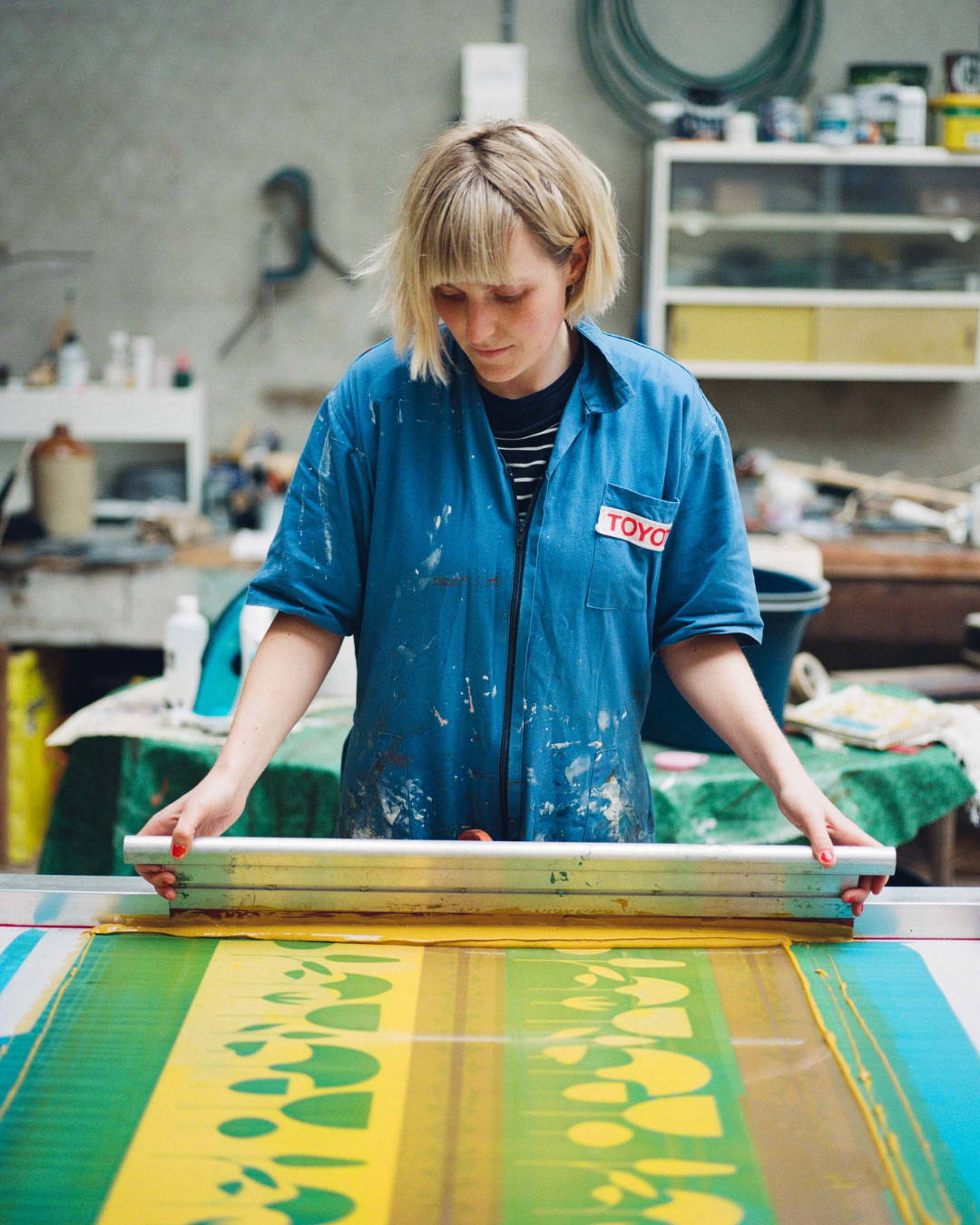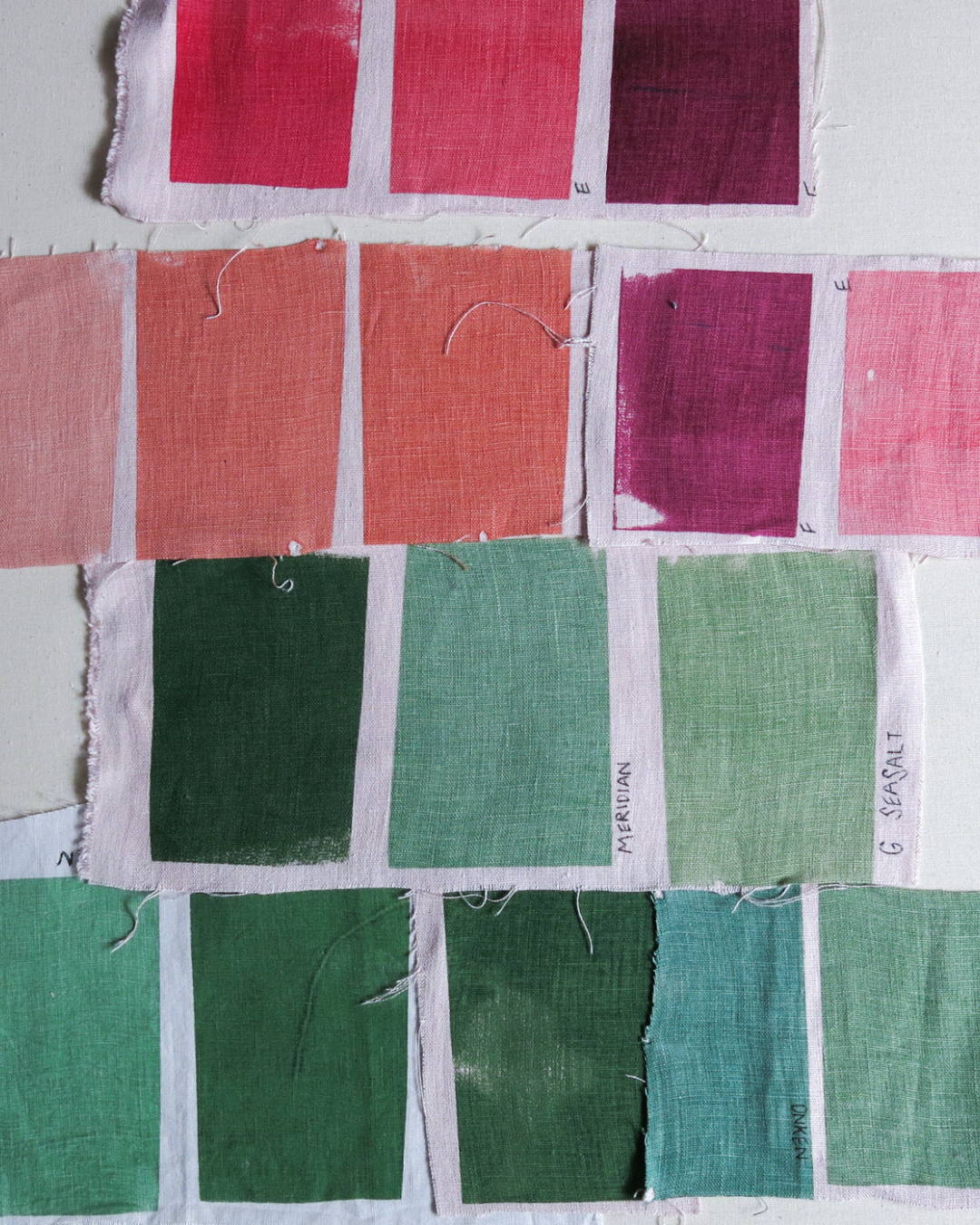 Hey Jessie! Can you tell us about where your design journey began and what inspired the launch of your brand?
Hi Charlie. I have always loved t xtiles and know this was the field I wanted to work in, but the arts are heard and without an obvious career path. You can set up your own business, work for a comapny or besfreelance. I wanted to create textiles that tread lightly on the earth; setting up my own business seemed the best way to do this.
"Hand printed fabrics are so nice — the way the ink sits upon the fabric, the crispiness and brightness of the inks. I love how, as a maker, I can oversee the whole design process."
What attracted you to screen printing?
My business was born during lockdown. During the pandemic I moved to Cornwall to live with my partner and his family. They are a family of artists so they had a few screens lying about. I started experimenting with screen printing textiles and I absolutely fell in love with the process. Hand printed fabrics are so nice — the way the ink sits upon the fabric, the crispiness and brightness of the inks. I love how, as a maker, I can oversee the whole design process. I can source fabrics organically and locally, I can mix my own water-based inks and avoid using chemicals. Printing everything myself has really changed me as a designer. You really have to think about every design decision.
How have you found the transition from textile designer to business owner?
Oh it's a completely different thing, you have to be so organised. I love it; I love building something, thinking about how I want my work to be presented. It isn't easy, there is always something to do and then always something else and something else. Setting up a textiles business is labour of love for sure, but it's so fun and so satisfying and I feel very lucky to be able to do what I love every day.
Your colourful textiles definitely pass the Marie Kondo "spark joy" test. What inspires your uplifting designs and (brilliant!) colour combinations?
That is so sweet, thank you Charlie. The first thing I do when I'm creating a design is work out the colours. I am a big fan of the Bauhaus Art School and how they taught colour theory. When I start a print, I paint lots of colour testers in matt emulsion and acrylic and work out my pallet. I also have lots of colour swatches that I play around with. Colour is interesting because actually all colours are nice, it's just how you use them and what you use them with. A dark blue is only dark if it sits next to a pale colour, for example.
You create such beautiful pieces for the home. How do you curate objects for your own home?
I love collecting pieces made by people I love and places I visit. My best friend Cam Biddell is a potter, I love collecting pieces of her ceramics for example. It's so nice having things around you that tell a story.
What's on your Quinn Says wishlist?
I love everything on Quinn Says — I want it all! The Seventy + Mochi Pablo Jacket in Patched Denim is very cool, with the pockets and oversized stitching. I also like the dinner candles. I am having a blue and orange moment so I love everything in those colours.