INSIDE TEXTILE BRAND STOFF STUDIO'S
During one grey Saturday morning in London, just before Spring finally arrived, we visited the lovely Carys Briggs of Stoff Studios in her colourful (and slightly chaotic) riverside studio in Woolwich.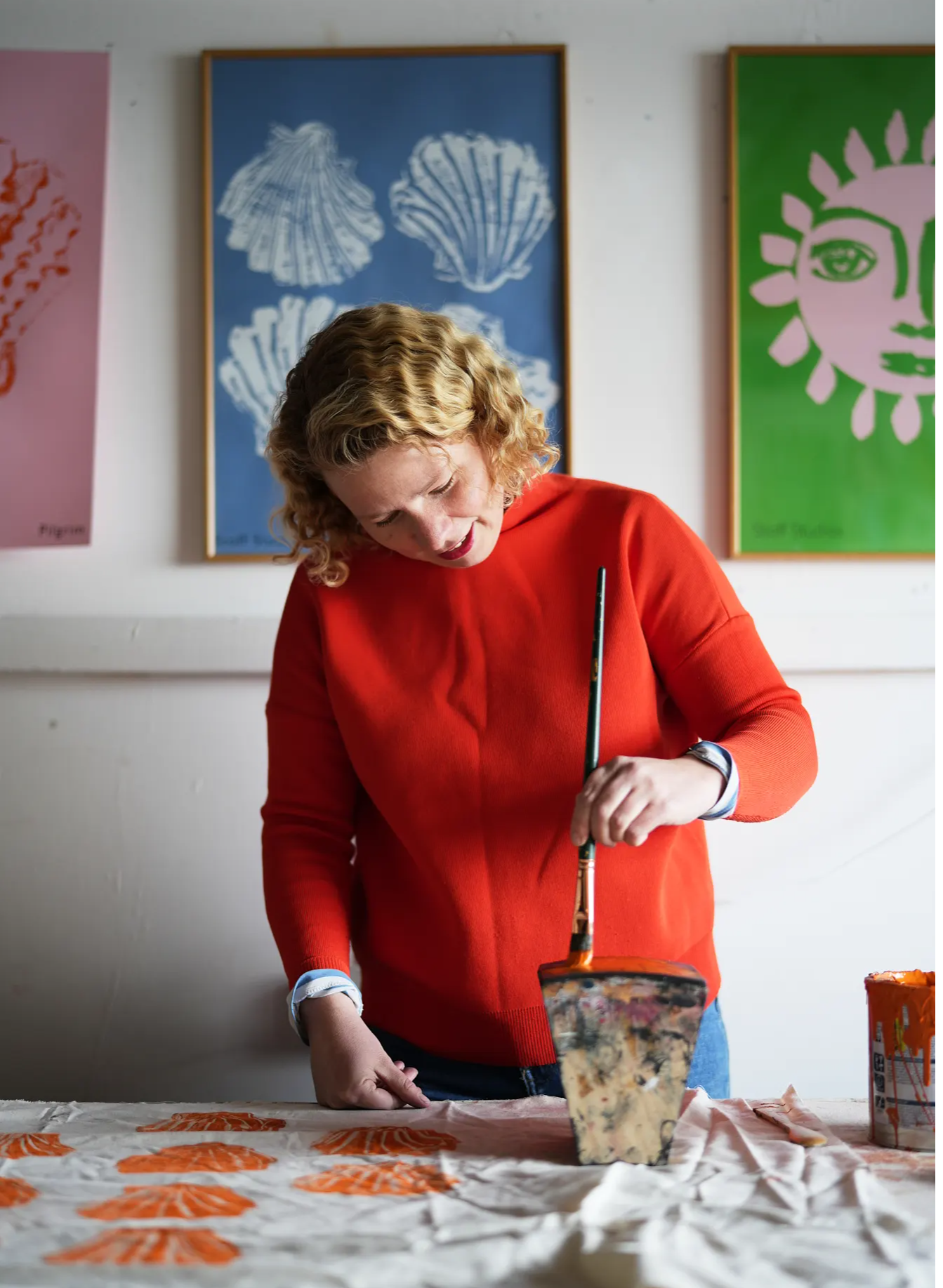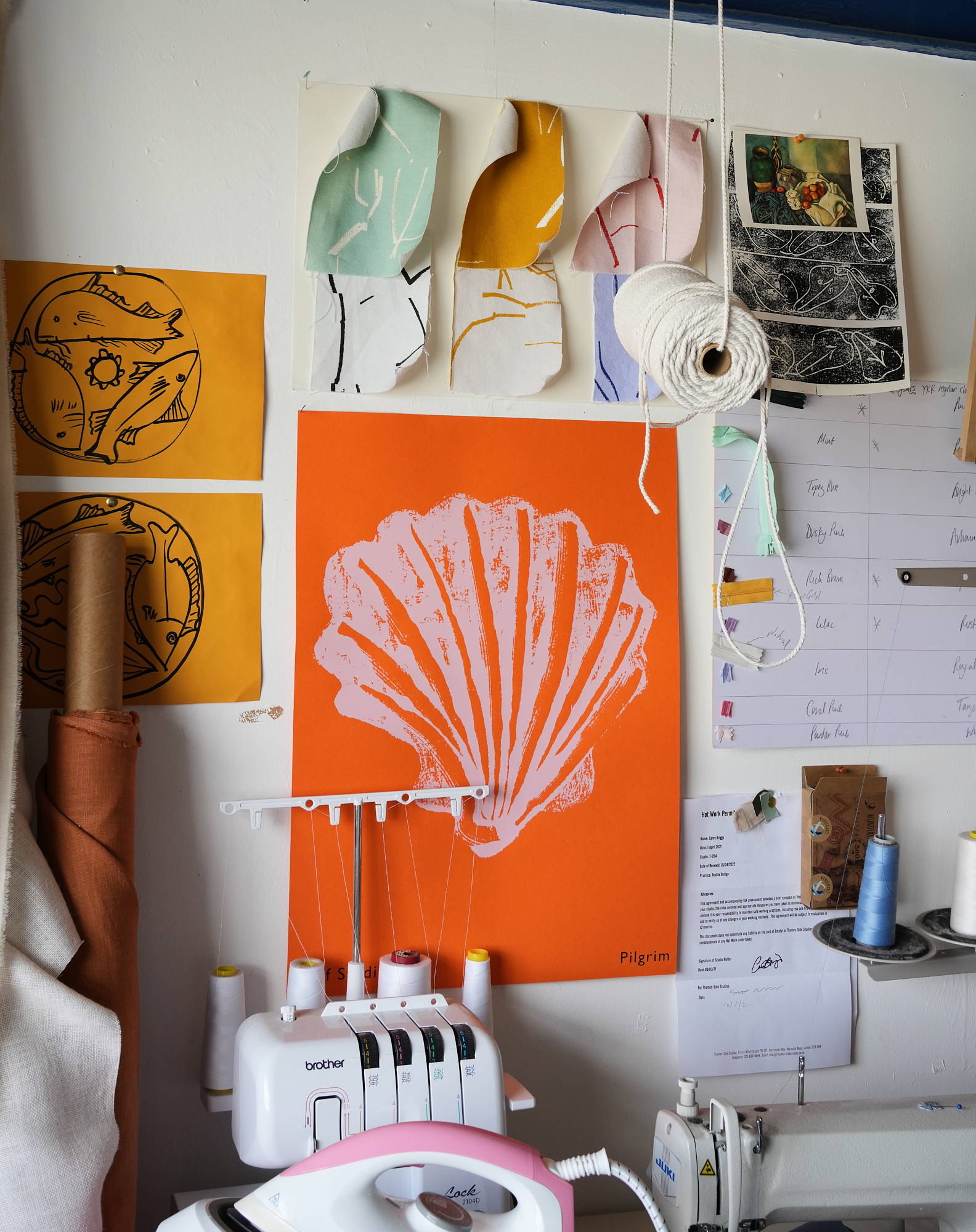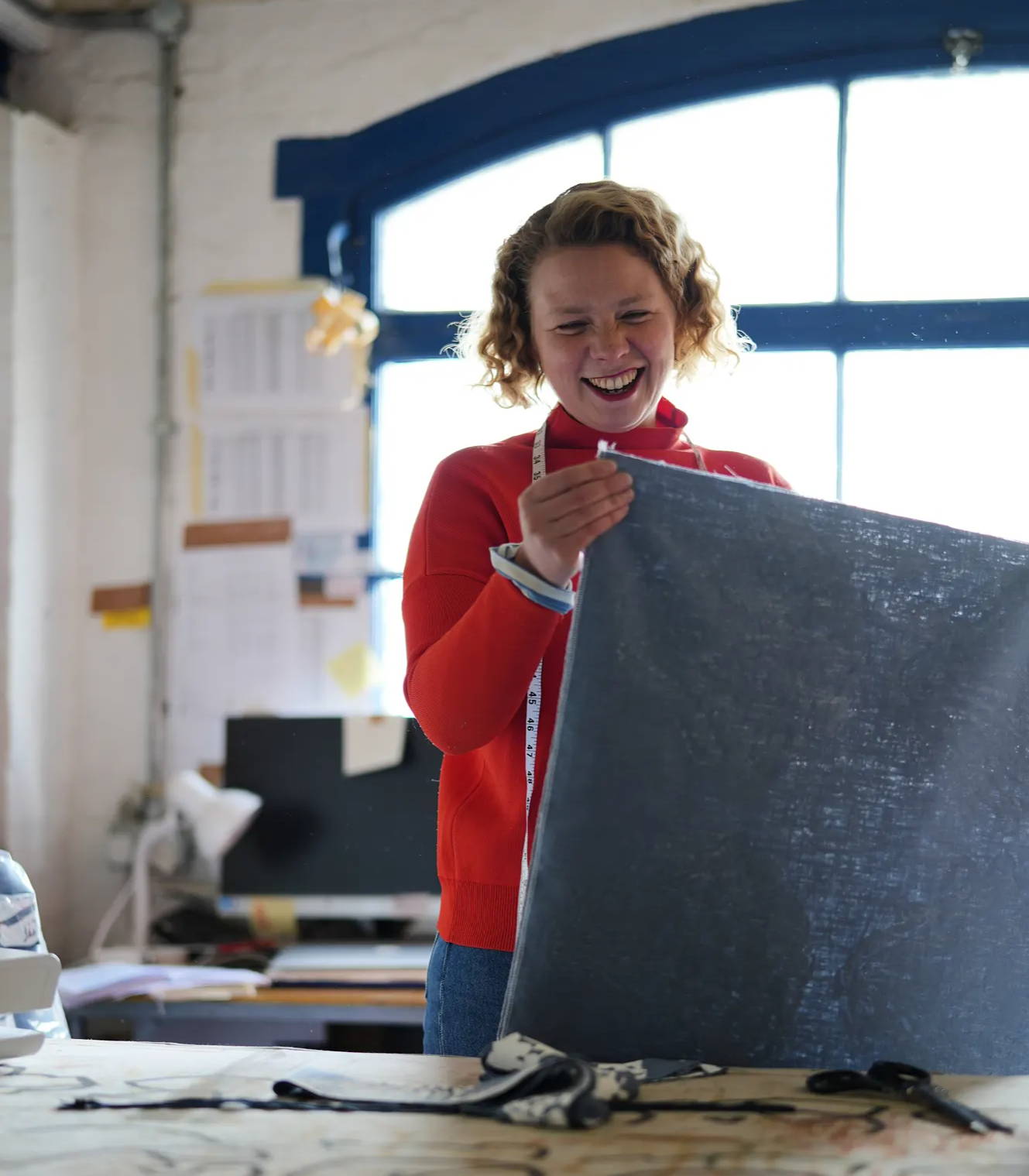 Carys says she always dreamed of going to art school. She relished the drawing classes she took during her time at Central St Martins, eventually enrolling in a Master of Arts at the Royal College of Art. From there, she launched Stoff Studios in 2015 with three fabric designs inspired by her favourite drawing classes.
Today, Carys makes her colourful collection of lampshades, cushions and prints by hand from start to finish, painting and printing onto linen using hand mixed inks in small batches. She then cuts, sews and stuffs her cushions and assembles the lampshades - a process she was generous enough to share with us while we visited her studio.
"There's something so lovely about making something by hand for someone," she says. "I like the idea that, hopefully, it will become something that's really familiar in their home."
Hey Carys! Can you tell us about where your art and design journey began?
I always knew I wanted to go to art school in London, perhaps after listening to too much Pulp as a teenager! Studying textiles was a fortuitous accident though; I'd never considered it as an option until I began my foundation year.
I've always been a bit of a collector (I love old ceramics and stones and books), so the idea of being able to make something that was tactile and exactly as I wanted was very alluring.
What attracted you to traditional printing methods?
What I love about printing onto fabric is it's so immediate and can be endlessly scaled. I remember being taught how to put a design into repeat at college. It was an incredibly old-fashioned technique using graph paper and rulers, but it was nice that, with a bit of patience, you could make metres and metres of a design as easily as making a small piece.
I think the tactility of screen printing adds another dimension to a design. When something has been made by hand there might be slight differences along the length of fabric. I love buying old fabrics for this reason, seeing the evidence of somebody's hands, perhaps from a long time ago, making something that has lasted so long.
I also just really enjoy using the screens and the squeegees and the equipment I've accumulated over the years … maybe it's the collector in me! I enjoy that ever since we printed metres of fabric in green for an order, the silk of the screen's mesh has a green tinge to it. I like how other screens that I have bought second hand and had reconditioned still have the neat name tags of their previous owners.
Can you explain how the mono printing method works?
I use mono printing techniques to try out ideas and create my initial drawings before deciding on how my final designs will look. It's a quick way of creating a wide range of marks and I love its simplicity and immediacy.
There are so many ways to create one off mono prints and you don't need any special equipment to get started. My favourite technique is to thickly paint onto offcuts of wood or pieces of lino. Instead of carving into the surface like a traditional block print, I use a variety of tools (spoon handles, sponges, wood or coarse paint brushes) to scrape away the paint from the surface. I like to lay out lengths of calico, working along the length until I find a technique I'm happy with.
What inspired you to launch Stoff Studios?
I launched Stoff Studios just after I finished my MA at the Royal College of Art. I began the course with an idea that I'd like to have my own studio and left after two years feeling eager to get started!
While I was studying, I had access to a specialist drawing studio which ran the most amazing workshops. One tutor put a sheet of ice on a projector and we drew as it melted away, another brought in about sand that we drew as other students began to mould and scratch into it.
These classes changed my perceptions of what drawing was, and made me realise how important it could be to textile designers. My first collection was called Figure A. It's made up of three fabrics which were inspired by various drawings made during these classes.
How have you found the transition from textile designer to business owner?
I think I've been lucky; it's happened quite organically over time. One of the things that made me want to have my own business was the idea that I could hide in a studio on my own making things, so learning to do accounts and run a social media account hasn't exactly come naturally.
I've done some great courses (who knew I'd enjoy making spreadsheets so much), and loved meeting other small business owners along the way.
It's really exciting to see Stoff Studios grow. There is something incredibly satisfying about having orders in your order tray and seeing the systems you've set up keep working as the pressure mounts (touch wood). Running your own business means you have to do everything, which sometimes seems a bit mad, but it also means you're completely in charge of how everything is done … which is lovely!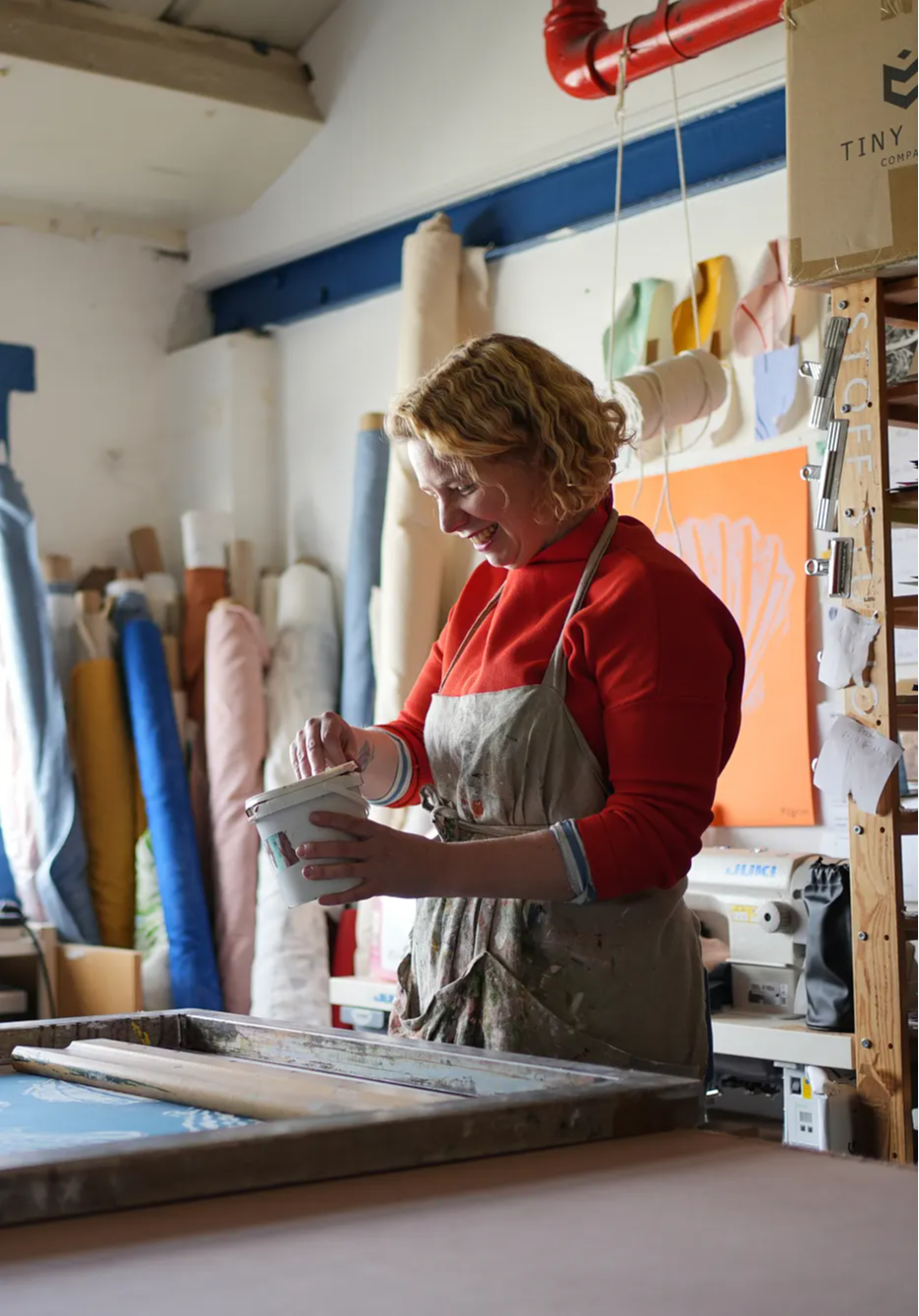 What inspires your designs?
I think drawing and mark making are the most important things for me when I'm looking for inspiration. I'm also constantly scouring junk shops for unusual book covers and postcards in strange colour combinations.
I have a collection of slightly sticky cookbooks by writers like Elizabeth David and Jane Grigson with wood cut illustrations of Mediterranean scenes and flagons of wine. I really love the sense you get from these pictures of long hot summers, which is definitely not English.
One of my favourite places to visit is the Roman rooms at the British Museum. It's got an amazing collection of small glass vases and pots in faded sea greens and bright cobalt blues as well as plaster pots in the shape of shells. I love the huge amphoras and the terracotta plates painted with black and white fishes and grapes.
You have a brilliant eye for colour. How do you dream up your palettes?
Ah, thank you Charlie! I think about colours a lot and find it interesting how evocative certain combinations can be. I like how seeing a colour in a context can make you like it or dislike it immediately. I worked as a colour consultant for Farrow and Ball for a few years, visiting people at home and helping them put together a colour scheme. Learning to describe colours in a way that was understandable was a really good skill to learn.
When I'm working on a new design, I tend to have a few colour combinations already in my head but I add to these over time, too. Usually it's colours that remind me of the object or thing I've been drawing.
I also use my ever-expanding collection of bits and bobs in interesting colours, picked up in charity shops and car boots. This includes torn book covers, broken pieces of pottery, postcards and brightly coloured photos on glass slides. I've got some beautiful screen-printed exhibition catalogues that I picked up for about 50p (one with a multi coloured Henry Moore fabric and another with turquoise Braque bird cut outs on the cover).
I also use a collection of silks scraps which I've painted using acid dyes. I diluted the primary-coloured dyes and spend a lovely day mixing colours and painting the dye directly onto the pieces of silk. I've added to it over the years and when I'm feeling stuck, it's great to tip them all out onto the table and play around with unexpected combinations.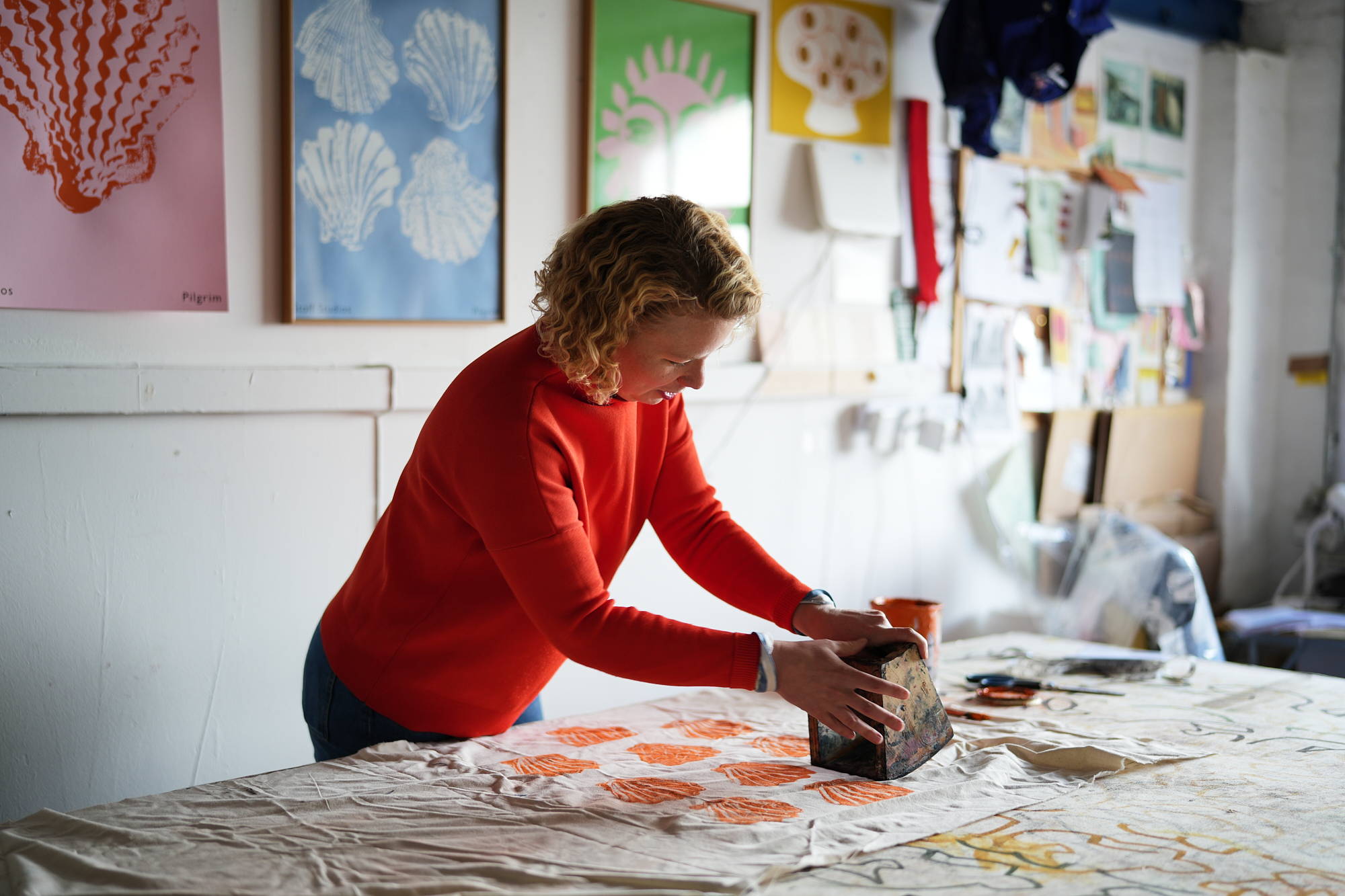 Can you share some of your sustainable practices?
Because we make everything in one space, our products don't travel around before being shipped to our customers. There's not much fabric waste as we print to order, and our cushion sizes are designed to fit the print and the fabric widths perfectly.
Our cushion inners are made using beautifully soft, 100% British wool. Wool is one of the most sustainable cushion fillings available. It's a material that is incredibly hard-wearing but can be composted at the end of its lifespan and collected without harming any animals.
We use predominantly Lithuanian linen fabric for all our designs (except for No 2 which is made using organic cotton). Linen is another wonderfully sustainable material. It's made from flax, a hardy plant which needs no pesticides to flourish and less water than cotton plants. Linen is sustainable, strong and softens over time, meaning the more you squish your cushions, the comfier they get.
Once our products are ready to go, we carefully pack them up using recycled cardboard boxes and biodegradable plastic packaging (to protect the cushions and fabrics from the weather during transit) as well as paper tape and recycled tissue paper. We want to make sure that our pieces arrive looking wonderful, without using plastic!
We work with a range of British and European suppliers and are proud to be part of a flourishing group of makers in South London.
What's next for Stoff Studios?
The past few years have been really exciting. Despite being locked inside during Covid, I've launched some new designs, met some new people (some virtually), and worked away on exciting projects and collaborations … all in between swimming in my local lido and painting our new house various shades of green.
Later this year I'll be releasing new designs in summery colours. I'm currently printing some big shell cushions with contrasting frills in olive, dusky pink and pale aquamarine and stitching up long Sunne bolsters, perfect for laying across a big feather bed.
I'm also hoping to get more inspiration with another trip to lovely Croatia!
Products mentioned in this post
---